"Do you have a web site?"
As a band or artist of any type, that is a question you may get asked often.
These days it is more important than ever to have a strong web presence to promote your music or art.  Sure, Facebook, Twitter, and other social media sites are important, but they do NOT count as your own web site.  While all popular artists have a strong presence on social media sites, almost all of them have their own dedicated web sites as well.
If you want to be taken seriously as an artist, you should also have your own dedicated web site!
But, what if you don't know anything about web design or HTML, and can't afford to hire a developer to create and maintain a site for you?  This is where WordPress can help!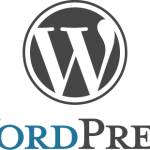 WordPress is an Open Source (i.e., free to use) CMS (Content Management System). According to Wikipedia,
"WordPress is used by more than 18.9% of the top 10 million websites as of August 2013. WordPress is the most popular blogging system in use on the Web, at more than 60 million websites."
WordPress is very popular because it is fairly simple to use, and it can be easily extended and modified for almost any purpose. If you can compose a document with any popular word processor, you have all the skills you need to create and edit your own content using WordPress. The only time where you might need a little bit of help is with the initial install and setup of WordPress, but even that is still fairly easy, and there are many hosting companies that will set up everything for you. If you're a tech-savvy musician, you should have no problems, and there is plenty of help to be found with a quick internet search.
Because WordPress is so popular, there are an abundance of Themes and Plugins available for it. Themes are like skins for WordPress. Themes control the layout, color scheme, and overall appearance of your web site. Some themes also add some extra functionality to WordPress, but, in general, themes are supposed to focus on the appearance of the site. Plugins, on the other hand, are used to add functionality to WordPress, and should be independent of the theme and appearance of your site. Plugins add functionality such as shopping cart systems, mailing lists, social media sharing/link, custom contact forms, and much more. You can find thousands of themes and plugins for WordPress, both for free or for a relatively small premium fee. You could spend weeks or months searching through all the available themes and plugins! For example, just do an internet search for something like "Wordpress Band Themes" and be prepared to spend the rest of your day looking through a variety of themes designed for bands/musicians.
Want to sell your music direct from your own site? There are plugins to help you do that! If you want to sell both physical goods and digital downloads, check out one of the many popular shopping cart systems, such as Woocommerce, a free WordPress plugin (with many premium add-ons to extend functionality).
Only want to sell digital downloads and don't need something as comprehensive as Woocommerce? Then check out Easy Digital Downloads, a free plugin that does exactly what it says. There are a variety of other eCommerce plugins for WordPress as well, but those are two of the most popular, and I use both of them for different sites that I run.
Also, since WordPress is so popular, there are many plugins available to help you connect with other web sites and services. You can easily add social media icons to any page of your site, or sharing icons/links for Facebook and other sites, or embed music players from Soundcloud or other sites, or integrate with your Mailchimp or other mailing list management system. If you can think of it, chances are someone has already developed a plugin for it. If not, then it's not too difficult to find a WordPress developer to custom program a plugin for you.
I have to admit that I had not even looked at WordPress until about 3 years ago when one of my studio clients told me she paid someone to set up a WordPress site for her. Before that, I thought WordPress was just a simple blog system, and I had never bothered to look into it in more detail. After taking a closer look at her web site, I became more interested in WordPress, and found out that it would be a great solution for my son's school PTA web site, which was in desperate need of a complete overhaul. I wanted a system that would make it easy for the parent volunteers to update their own pages for the committees they chaired, along with managing the other aspects of the site with as little reliance on a webmaster as possible. WordPress seemed to fit the bill almost perfectly. There were some very specific needs we had, for which there were no plugins available that did everything the way we wanted, so I used that as my motivation to get back into programming again after more than 20 years away from it.  It was surprisingly easy to get back into programming, and the WordPress framework made it even easier to create some very complex functionality for our PTA web site.
So, what do you need to create your own WordPress based web site?
Your own domain name, which you can get for around $10 - $20 per year
A hosting account with a server that supports WordPress. Most servers do, and there are many hosting companies that specialize in hosting for WordPress, although just about any Linux based server from any hosting company will work. Depending on your hosting needs, you can get a shared server hosting account for as low as about $10 per month. If you need a dedicated IP address, or more space/bandwidth for lots of high resolution digital files, you may need to move up to a higher level hosting plan, but you should still be able to get that for around $20 per month.
WordPress itself.  WordPress is FREE! In fact, there are installers for WordPress bundled with many server control panel packages, such as CPanel. These make installing WordPress as easy as typing in a few details for account information and desired directory to install in, and everything else is set up automatically.
A WordPress theme.  Several free themes will be installed with WordPress so you can get started immediately, but you can also search for & install other free themes from within your WordPress dashboard (your admin control panel for WordPress), or search online for & purchase premium themes which can also easily be uploaded and installed from the WordPress dashboard.
WordPress plugins (optional). If you need additional functionality, you can install plugins as easily as you install themes from your WordPress dashboard.
That's really all there is to it! You don't need a web designer or even a graphic artist if you can find a theme that you like. Most themes make it easy to change colors and layout elements, and upload your own logos and other images.
If you need help or some custom programming for your WordPress site, you can contact me or any of the thousands of other WordPress developers out there.
Over the last few years I have been slowly changing over many of my own sites to WordPress.  In addition to this site, here are a few other examples to show you the range of looks and functionality from just the WordPress sites that I have set up:
Of course, WordPress is not the only solution, and I still have several sites that don't use WordPress (although I plan on eventually having all my sites converted to WordPress). I am a WordPress convert, though, and I strongly feel that WordPress is the best solution out there for musicians and artists that want to create and maintain their own web sites without learning a lot of HTML, CSS or programming.
If you need any help or advice on setting up your own web site, with or without WordPress, please don't hesitate to contact me. I've been designing and running my own web sites for over 15 years.